Culture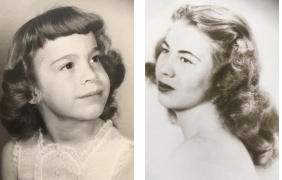 Just Us Girls
In honor of Mother's Day…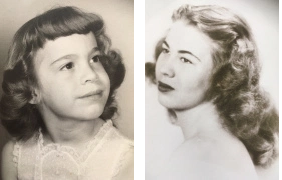 After the divorce, my mother and I lived with her father.  I was put in nursery school so she could take nursing classes.  She said that Pop-pop loved us, but he was so gruff that it was hard to tell. He didn't mind baby-sitting me when she worked at the hospital, but he didn't like it when she went out with men, or her girlfriends.  I remembered one especially scary fight.
Momma was holding me on one hip while Pop-pop shook his finger in her face.
"You keep it up, and I'll have her taken away from you, Dorthy!" he threatened.
"Don't you even think about it, Daddy!  I'm allowed to have some fun!"  She carried me into the bedroom we shared and then left, closing the door behind her.  The yelling continued, but later when I asked her about it, she said that there had been no fight:  "You just had a bad dream, baby."
Because Pop-pop was so strict, she liked to get away.  Allen, one of her boyfriends, would drive us down to a restaurant at the beach.  He was a lawyer who always wore suits, and Momma liked getting fixed up in a pretty dress with high heels.  The restaurant was a dark Chinese den, eerie with fish tanks. They made Shirley Temple 'highballs' for me and always put a colorful little parasol on top. After dinner, a bit tipsy, Momma wanted to walk on the shore.  She'd drop her shoes in the sand and skip to the edge of the surf.  "Come in!  It's fun!" she'd call to me.  But I hung back by the wooden steps, fearful that alligators swam in the dark water.  The waves lapping at her feet looked like hungry teeth and talons; they were just waiting to pull us under and feast on our polished pink toes.
In the summer, Momma got hired at a lodge up in the mountains.  During the day, while she worked, I was free to roam the nearby woods.  I'd been warned about rattlesnakes but actually hoped to see one, only I never did.  What did frighten me was when I heard a plane fly overhead.  I ran to the lodge and found my mom in the kitchen washing dishes.  "Momma!  The Germans are coming!  I heard their plane!"  I was stunned when she laughed at me.  "Honey, that was just my boyfriend Bobby.  He's a pilot, and he was doing a fly-over so I'd come out and wave."
I had two secret boyfriends of my own: Guy and Lucky, young men who worked at the lodge.  When their afternoon chores were finished, they'd take me out to the breakfast porch next to the bar.  Lucky put a quarter in the jukebox and picked three songs – he always made sure that one of them was my favorite, Elvis Presley singing "Teddy Bear."  Guy would teach me how to jitterbug, swinging me easily from one side to the other, then reeling me in, breathless, from the back-step.
Some nights, Momma served drinks in the bar; others, she just liked to hang out with the customers.  She wore shorts and sleeveless blouses that knotted at her waist.  Her red lips left a stain on her glass, and sometimes she danced with one of the men.  Guy and Lucky were usually there, dressed in khaki slacks and white T-shirts with a pack of cigarettes tucked in the sleeve.  They'd tease me in between flirting with the women.  In the center of the bar was a massive brick fireplace to ward off the mountain chill.  When I got sleepy, I'd lie down on the warm bench that was built along its side.  Ice clinking in glasses, the deep voices of men, and my mom's tinkling laughter lulled me into the safety of sleep.
"Want me to take her up to the cabin?" Lucky would ask her, and my mom would always say, "Oh yeah, Luck, thanks a lot."  Otherwise, it would be her job, and the walk up a hill was a long way to carry a limp little girl.
One night, in my half-sleep, I heard a customer ask my mom, "You sure you wanna do that?"
"What?" she asked.
"You know … let a Mexican guy … take your little girl to bed?"
"Why … you … you just mind your own business," Momma said.  When Lucky took me past her for my goodnight kiss, she was puffing on a cigarette, and I saw that her cheeks were flushed like when she got sick.
"Thanks so much, Luck," she said, as usual.  Then Lucky carried me up the hill, tucked me in, and waited till I was all the way asleep before tiptoeing out, just like he always did.
When summer was over, Guy and Lucky enlisted in the Army.  The day they left, they hugged me goodbye, but I couldn't stand to see them go.  I followed them past the property line, down in a meadow where I wasn't supposed to be, waving like crazy.  I kept hoping that if I waved hard enough, they'd change their minds.  They turned to wave back but kept walking until I couldn't see them on the road anymore.
My happiest times were when Momma borrowed her brother's white convertible T-bird, and we explored the not-yet-so-mean streets of L.A.  She was the blonde, buxom vixen with Marilyn Monroe's pouty lips, while I was more the sassy brunette Jane Russell sidekick.  With our matching mother/daughter sundresses, sunglasses and huaraches, we cruised around town on those white leather seats, waving to men in uniform and getting whistles from laborers and businessmen alike.
On those days at least, it didn't matter that my daddy was gone, that Pop-pop could be mean, that Momma had a lot of boyfriends, or that Guy and Lucky had followed Elvis' footsteps away from me.  As far as I was concerned, we were just two swinging girls out on the town, and life was good.
(A few scenes from this post appeared in Breast Milk and Burgers.)