Culture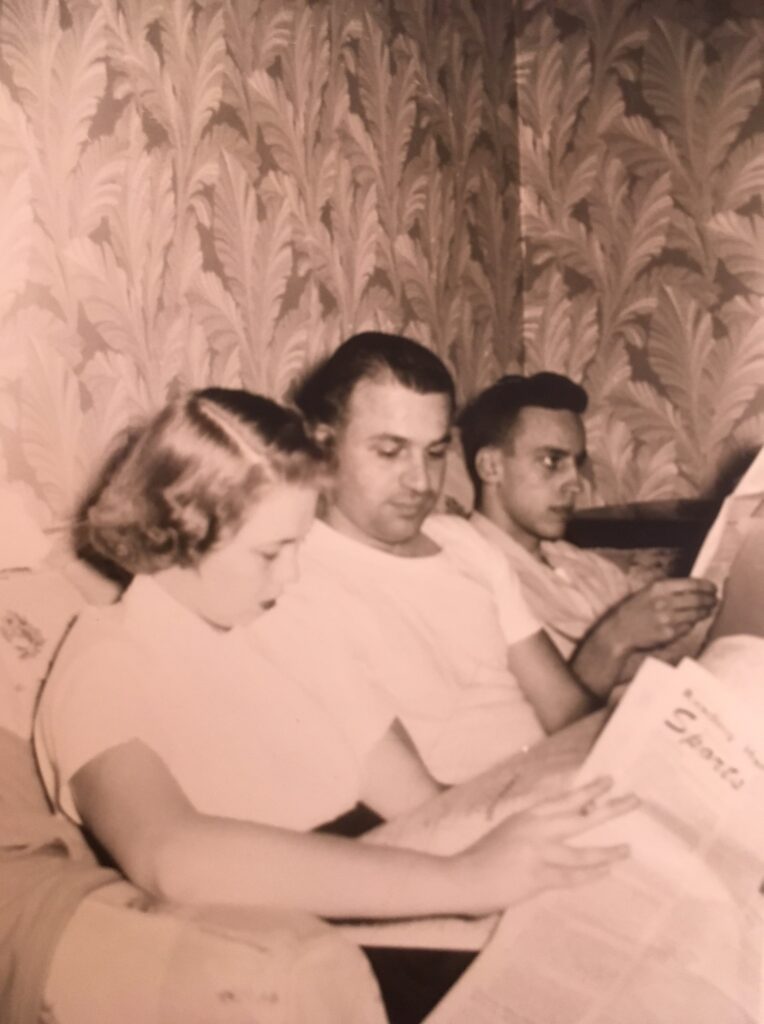 A Day Late and a Dollar Short – Just Like My Dads
Father's Day is over, and I didn't get this posted.  But I realized it's a metaphor for… … my own paternal situation.
My biological father Bill may have been – OK probably was – a deadbeat.  He had a college education as a journalist and the good looks and charm to make it, even in competitive Los Angeles.  But according to my mom Dorthy, he preferred going bowling to going to a job.  She had to clean a rich woman's house just to put food in the fridge.  I don't know if the part about Bill stopping by to visit her and stealing jewelry from the woman – who then blamed my mother and called the cops, who allowed my mom to call her father, who came to the house and broke Bill's jaw, whereupon Bill confessed – was true.  What I do know is that they divorced and she and I went to live with her father.  Bill never paid child support.  And years later, when she had moved me to her in-laws in Pennsylvania and then remarried, and I hadn't seen my father for six years, Bill came home to his parents to die.  He had cancer at 36, and he brought a hella lotta bowling trophies with him.  Just not enough to put food on the table, I guess.
But I have a few sweet memories of him.  After the divorce, he took me for occasional overnights.  He'd pick me up on Saturday afternoon, often lifting me, squealing with excitement, out of my bath with a big towel.  We went to the store where I was allowed to pick out breakfast rolls and a comic book.  Then he took me to the bowling alley where I cheered mightily for him, no matter whether he had a strike or a gutter ball.  He read me the comic book to put me to sleep, in the one bed in his single apartment, and re-read it in the morning while we ate our rolls.  Then he took me to a park or a movie before returning me to my mom.
At 12, I didn't realize immediately that he had come home to die.  He talked about going back to school to become a teacher like his brother.  We spent much of a summer at my grandparents' cabin in the Pocono Mountains.  He fished a lot.  My favorite day was when he took me out with him in the row boat.  He baited the hooks for me, and I finally did catch one trout.  He caught many.  We had a feast with our neighbors that night.  He cleaned the trout (I couldn't watch) and then pan-fried them in corn meal.  It was one of the best meals I ever had.  As his body shrank and death drew closer, I couldn't watch that either.  But the last words he spoke to me (croaked, really, as he could hardly talk) were "You're so beautiful."  And I would always have those comic book mornings and that sun-dappled day in the boat.
My stepfather Jim was a high school teacher and basketball coach.  My mom met him while we were living with her in-laws (before Bill moved there to get cancer treatment and then die).  She  settled into housewifery with Jim.  They were trying to have another child, and there were several heartbreaking miscarriages and one soul-crushing death of a son the day after birth before my healthy sister was finally born.  During those years, Jim paid only minimal attention to me.  He never adopted me.  To be honest, he was obsessed with sports and especially with his own teams, and then, after she came along, with my little sister.  During the day, when he wasn't working, he liked to take her out and about.  At night, he could usually be found at the local Republican Club, hashing out his coaching strategies with an assortment of former players, assistant coaches and local geezers – which I think made for a pretty lonely marriage for my mother.  Eventually she divorced him, too.
Here are the positives about my stepfather.  He had a good work ethic, always kept a roof over our heads, and yes, food in the fridge (OK, there were the early Spam years, but they got better).  With his late nights and depending on how much beer was consumed, I'm sure he often felt like calling in sick.  But he almost never did.  Just like Bill and the stolen jewelry, I never knew if the story that he punched out a friend who made a sexual comment about me when I was home from college was true, but I could imagine it.  He was a strait-laced, traditional man, and even though he didn't understand things like homosexuality, he stood up for a fellow teacher when the school board threatened to revoke his pension for having a gay relationship.
My best memories were much later, when he'd visit my home in Southern California.  He finally treated me equal to my sister and talked to me as one would to the eldest child.  On long walks with my dog, he spoke more personally than he ever had.  The most meaningful thing he said to me was that he wished he had been a better husband and father.  I'm old enough now to know how hard it is to live with mistakes that cannot be undone.
Here's the kicker:  My two fathers were brothers.  One may have wanted to do better, but he didn't, and then he ran out of time.  My stepfather tried harder, but unfortunately, he made one more mistake before he died.  He was proud of the money he had saved in order to leave something to my sister and me.  But when he became sick, he gave too much power to a pretty, but unscrupulous, woman.  She claimed (through her lawyer) that he wanted her to have that money.  At least I knew my stepfather well enough to know that it wasn't true.  He wasn't perfect, but he loved his daughters.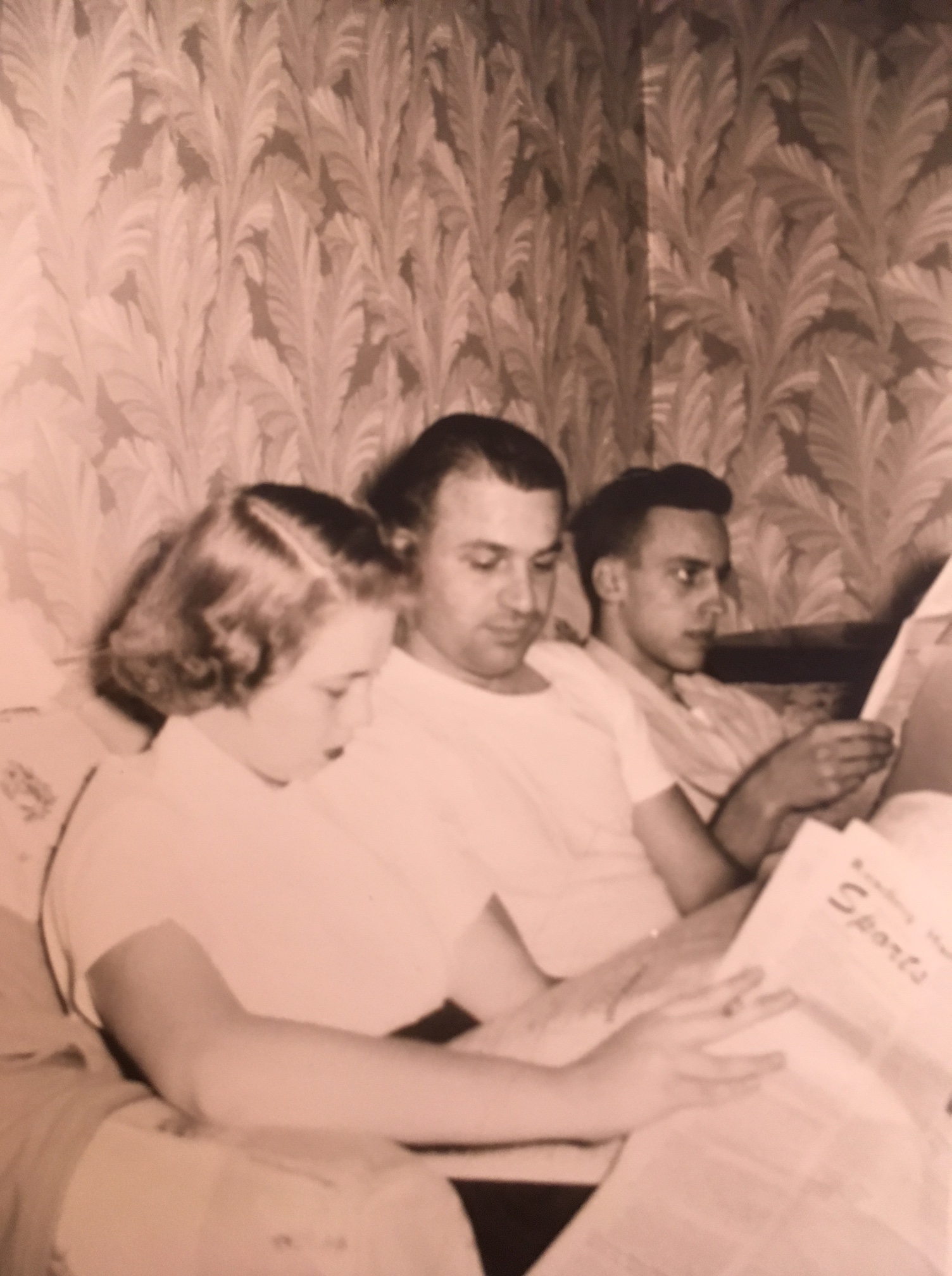 My mom with her current and future husbands –
I would love to know what is going on in those heads!