Health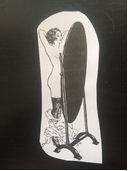 Body by Lynda
Ever take off your clothes and stand naked in a room full of strangers?  I just did, and it was wonderful.
I was invited to lead a body image exercise in a program put on by the International Professional Surrogates Association (IPSA).  This is a class of people training to be surrogate partners in sex therapy.  If they become certified, they will work in concert with licensed therapists to help clients with a variety of sexual dysfunctions.  Through a series of touch exercises and ongoing personal sharing, they will form an increasingly close bond that could end in sexual intimacy.  This is a simplistic description of a complex process of building a relationship, the goal of which is to teach a client how to navigate such a partnership in the real world.  In the field of human sexuality, it is a truism that sex therapy is really relationship therapy.  The IPSA website linked above has more information about the therapy, surrogate training, and the code of ethics that IPSA surrogates follow.
In the first paragraph, I tried to create a bit of drama by saying that I was naked in "a room full of strangers."  In fact, the training classes are small:  There were six trainees, plus the head trainer (and IPSA President) Dr. Vena Blanchard.  The task I was given was to be nude in front of a full-length mirror and do a body meditation that included form, feeling and function.  Form is the physical appearance of the whole and parts of my body.  Feeling is my body's capacity for sensation and pleasure.  Function is how well my body can perform what I need to survive and thrive.  The rationale is that surrogate partners should have a comfort level with their own bodies to help clients develop self-acceptance and learn what is possible for them.
I began by leading a group disrobing.  Starting with our heads and moving down, participants were asked to remove clothes (or other accoutrements) to the level that was comfortable.  I invited them to focus on things such as what felt easier to remove vs. more difficult; how the skin of the unclothed parts felt as compared to the clothed parts; what they might gain and lose by removing vs. not removing any particular items.  Then I gave permission to just look at each other from head to toe, front and back.
We talked a bit about what it felt like to do this.  It manifested in different ways for each person, spurring both laughter and tears, but each of us became aware of two basic experiences that we had in common:
The vulnerability that comes with sharing ourselves in such an intimate way, as well as the trust that builds when we are accepted by others.
The falling away of judgments about whether a body is 'good' or 'bad,' replaced by a realization that all bodies are simply human and beautiful in their own individual ways.
Then I turned to the mirror to commune with myself.  I confronted the fact that at 65, I don't have the body that I had at 25, or even at 45.  In an ageist culture that treats older people as invisible, and older bodies as perhaps even disgusting, it can be hard to find things to feel positive about.  And as we age, we begin to have failures of function that, besides being inconvenient and uncomfortable, also remind us of our mortality.  I was concerned that too much of my focus would be on the things that I have lost or that I feel disappointed in or ashamed of; but I was going to challenge myself anyway.
As I talked about my form, I found, as I'd expected, that I am disappointed that my once lustrous hair has thinned, and embarrassed by my sagging belly.  But I was pleased to note that I'm happy with my still-pretty dark eyes and full lips, and excited that my lover never seems to tire of looking at my shapely legs.  (Hooray for leg men!)
When it came to feeling, I had to admit that the former bright light of my sexual response has dimmed somewhat after menopause.  But my intellectual and emotional interest in sex is still great, and with a little help from modern medical science, my little tubes of estrogen cream and testosterone cream, I can boost my response at will.  My skin is still very receptive to touch, and I didn't mind at all one day when my lover was caressing my thigh and asked, "When are you going to get old lady skin?"  Thus implying I haven't.
Years ago, I came late to the idea that I might want to have a child.  By the time I knew, I had lost my reproductive function and suffered a series of pregnancy traumas (I cried during this portion of my meditation).  In addition, the scoliosis (curved spine) that I've had all my life is beginning to cause pain and limit some activities.  Nevertheless, I still feel strong in my body and am able to do many of the things that I want and need to do.
After I finished, the trainees thanked me for my openness about my body.  We shared some group discussion, and then they went off to private spaces to do their own body image exercise in pairs.
As I drove home, I had time to contemplate how I felt.  I accepted the inevitability that I am aging and my body is changing.  Instead of feeling cheated out of what I once had, I can enjoy remembering it, and I can still take pleasure in what I have now.  I've reached an age where some of my friends have passed away.  I don't know, but can imagine, that they might wish they could reside in this imperfect yet beautifully alive body that I am still gifted with.  I feel grateful.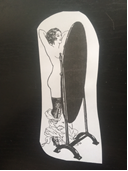 What do you think you might find if you did your own
body image exercise?