Relationships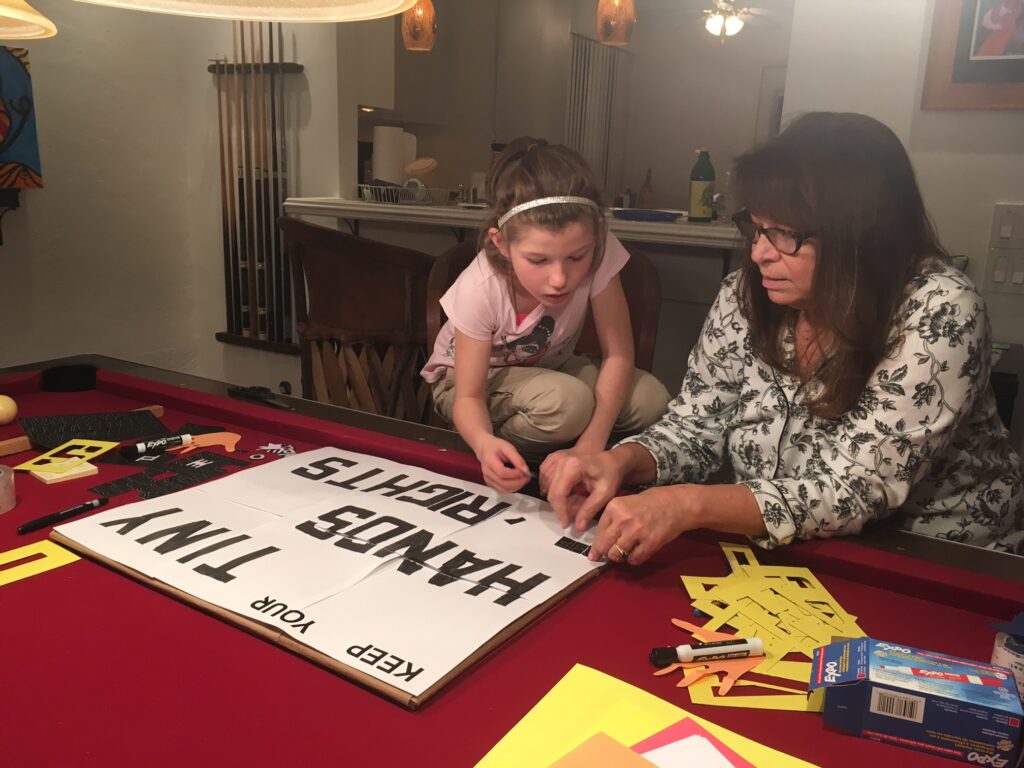 Love Trumps Hate (The Women's March: Macrocosm and Microcosm)
Last weekend I participated in the Women's March in Los Angeles.  It was organized to be a sister march to one scheduled in Washington, DC.  Its goal was……to support women's rights, and it did.  But most know that a secondary mission was to protest the presidency of Donald Trump.   It's impossible to separate the two, because many of Trump's agendas are directly threatening to the health and welfare of women and families, not to mention the environment that supports us all.
I was ambivalent about going.  Not because I don't support the causes – I do – but because I was a bit worried.  I'm not as young as I used to be, and going would involve taking public transit into LA (which I've never done before) or driving and facing closed streets and full parking lots (which I've done too many times before).  Plus I have back problems and was concerned about the long day of walking and standing.  I could have stayed home and supported it in my heart.
The main reason I ended up going makes me smile now:  I was worried that there might not be a good turnout.  I know many people feel the way I do, but would they brave those same barriers and show up?  I didn't want the March to appear piddly and feed Trump's already narcissistic idea that few people oppose his policies; I could help just by contributing a body.  Instead, an estimated 700,000 people turned out!   And that was just in Los Angeles.  The original march in Washington had over half a million.  New York had between 500,000 and a million.  Chicago had 250,000.  The list goes on:  Boston, Philly, Miami, Denver, Seattle, etc.
And size isn't the only factor.  Those are bigger cities, but small cities and even small towns around the nation were represented.  Borrego Springs, CA had 140 people.  I've spent a fair amount of time visiting there; that must have been practically the whole town!
So this was not just a DC event, and it was not just a US event:  Cities around the world also took part.  Places like Toronto, London, Barcelona, Mexico City – even the research station in Antarctica had 30 participants (more if you count the penguins!)  It was a global event, and the largest of its kind in history.
Academics are still working on the calculations, but here is a preliminary list that is pretty interesting:
http://news.infoshop.org/dissent/womens-march-global-tally
Best of all, in the two cities that had the largest marches, police reported that crowds were always peaceful and respectful, and there were NO ARRESTS.  I expect other cities were similar.
That was the macrocosm, which Merriam-Webster Dictionary defines as "1 : the great world : universe. 2 : a complex that is a large-scale reproduction of one of its constituents."  Millions of people came together to stage a world-wide peaceful protest.
Now for the microcosm.
Once I had decided to go, some friends wanted to come from out of town to join me.  They also wanted to help make sure that I could sit and walk comfortably.  The two adult women spent the evening before knitting pink 'pussy hats,' while the girl and I made signs.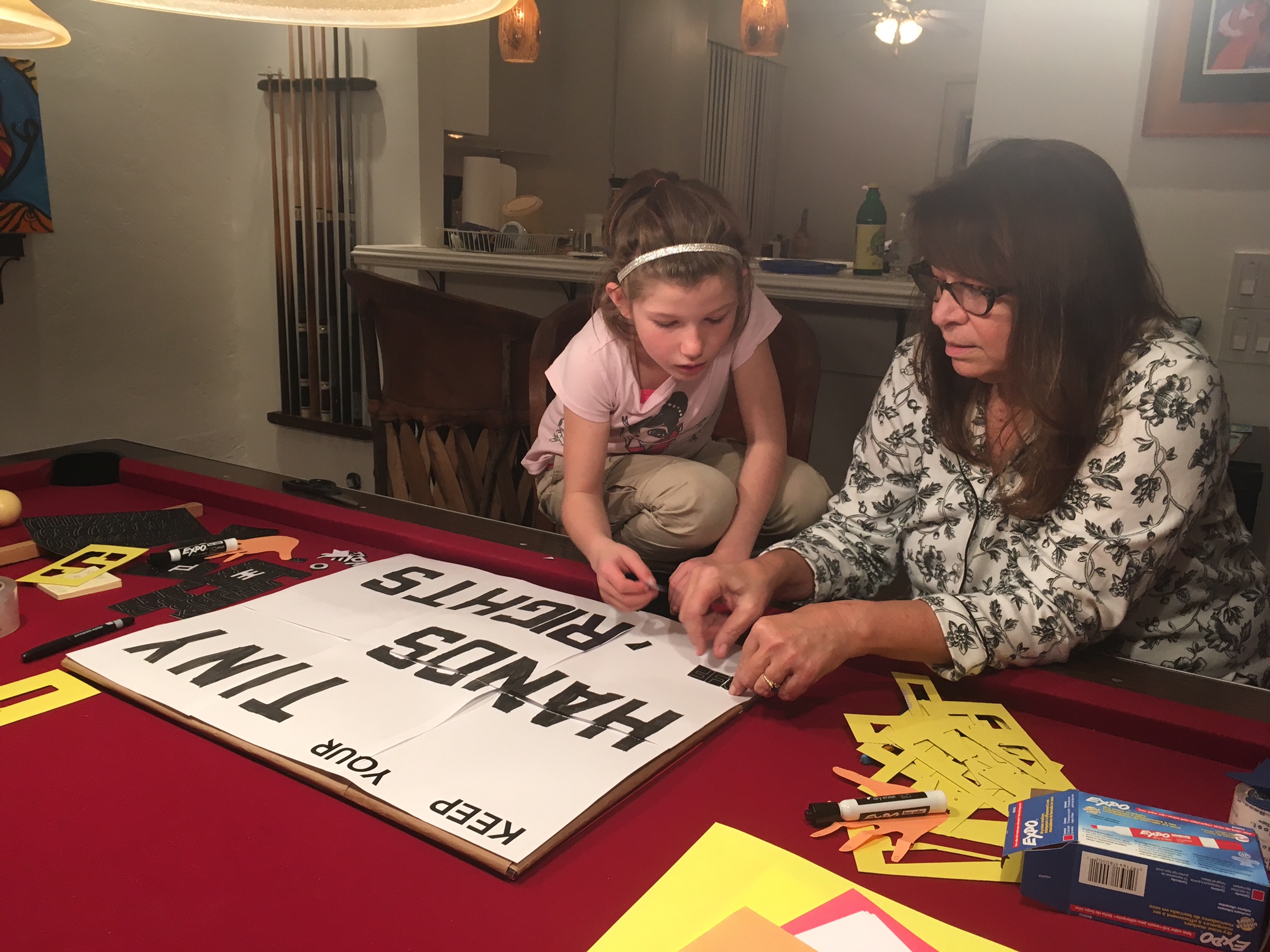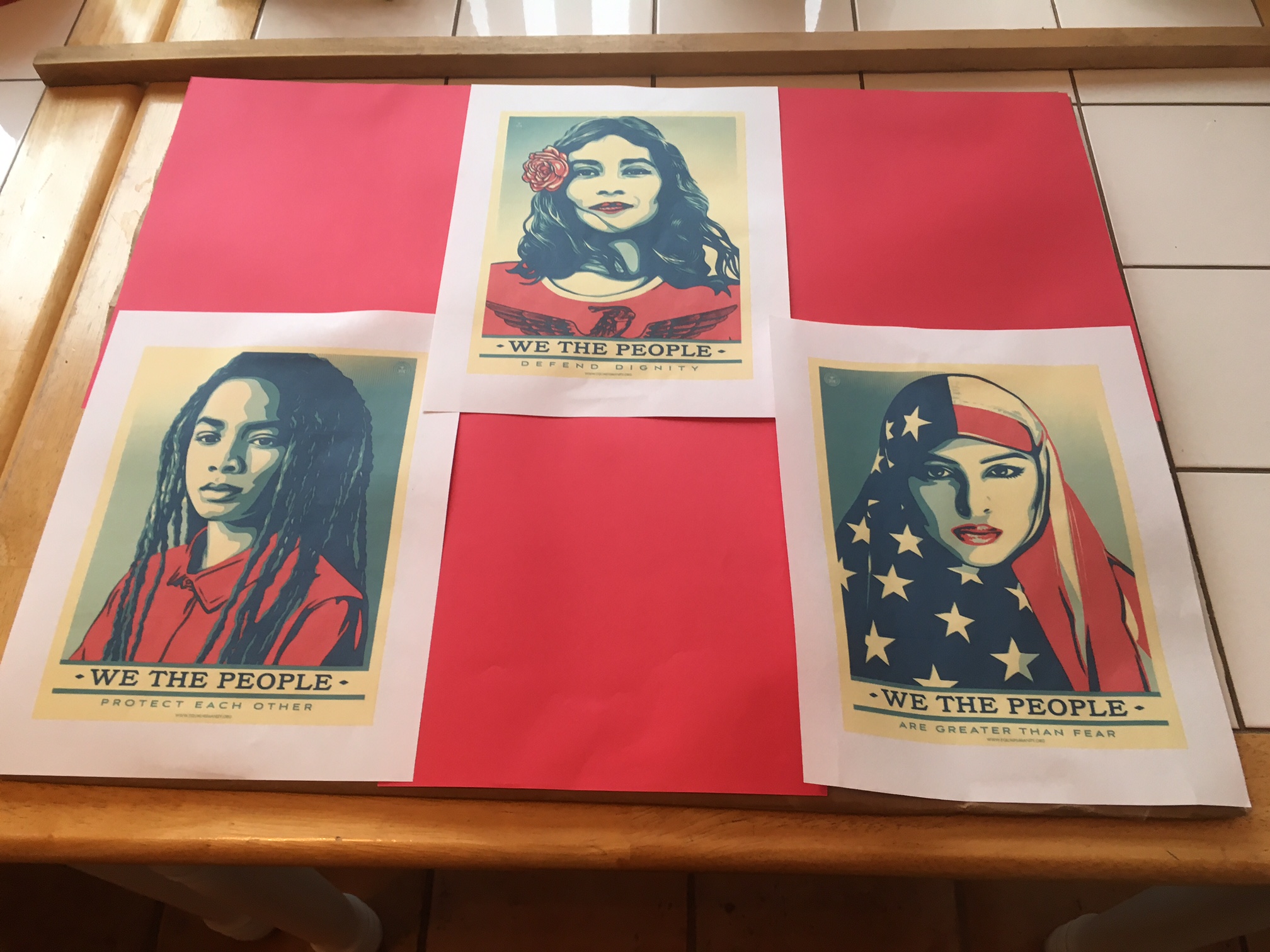 –   Images of  three women by artist Shephard Fairey 
(made available to the public for the Marches)
While we worked, she asked me to explain the meaning of the March, which I gladly did.  She is a woman of the future, and what is happening now is going to have a profound impact on her life and those of other young people I care about.  This march would be in HER honor!
In the morning, we met with friends of theirs and all caught the train into Los Angeles.  It wasn't full when it arrived, but it was when it left.  There was standing room only, and in fact, people were standing – and sitting – in the bathroom (luckily no one had to 'go')!  Everyone was cheerful, polite, and generous of spirit.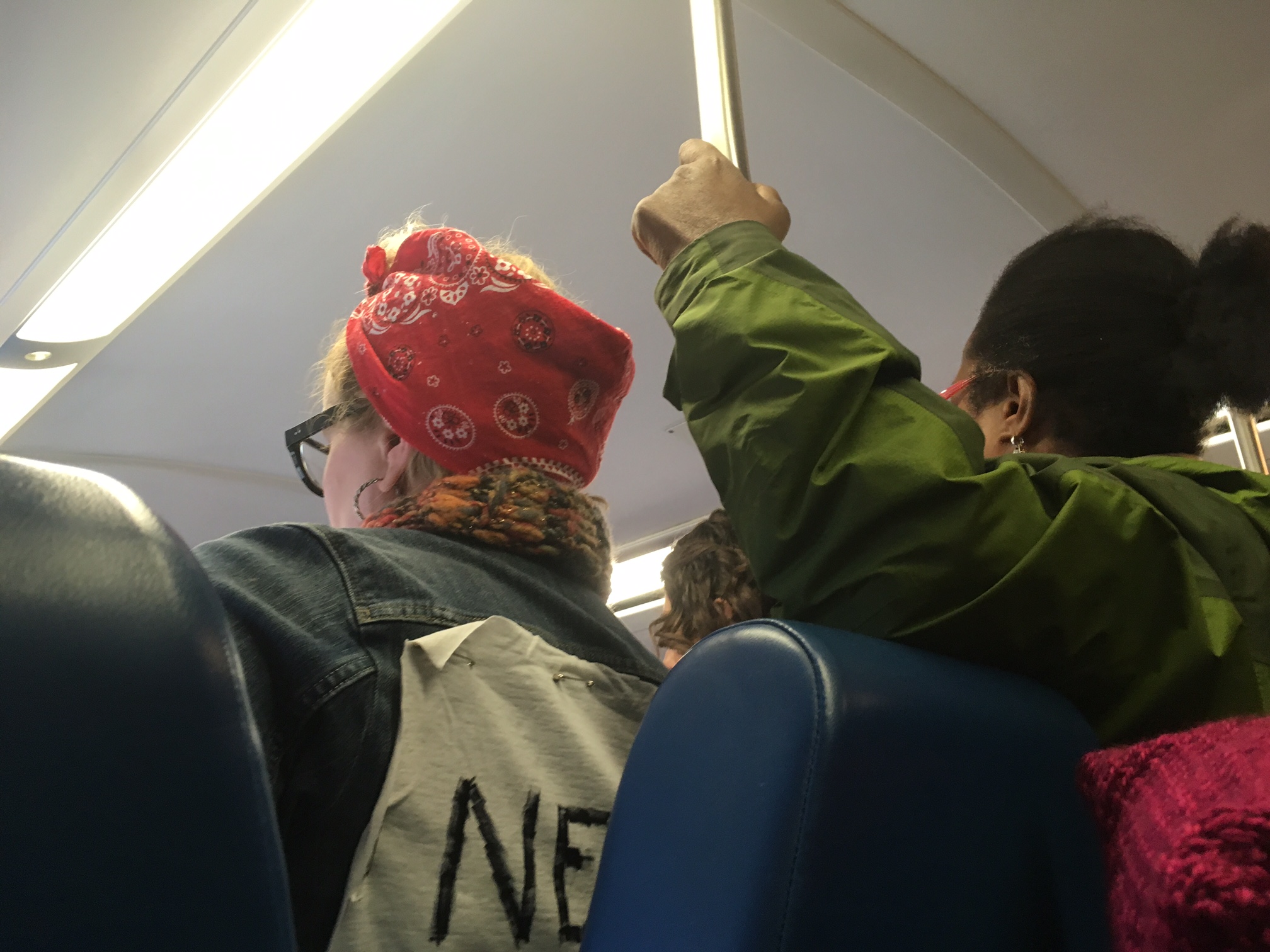 Being in the March was amazing.  Most of us lost phone coverage, yet I still managed to connect with two other close friends.  There was a constant kaleidoscope – a sea of pink hats, funny or thought-provoking signs, friendly police officers.  In one favorite segment, women chanted, "My body, my choice!" and enthusiastic men called back, "Your body, your choice!"  Imagine the females of all ages there, but especially the young ones, witnessing such homage to Girl Power!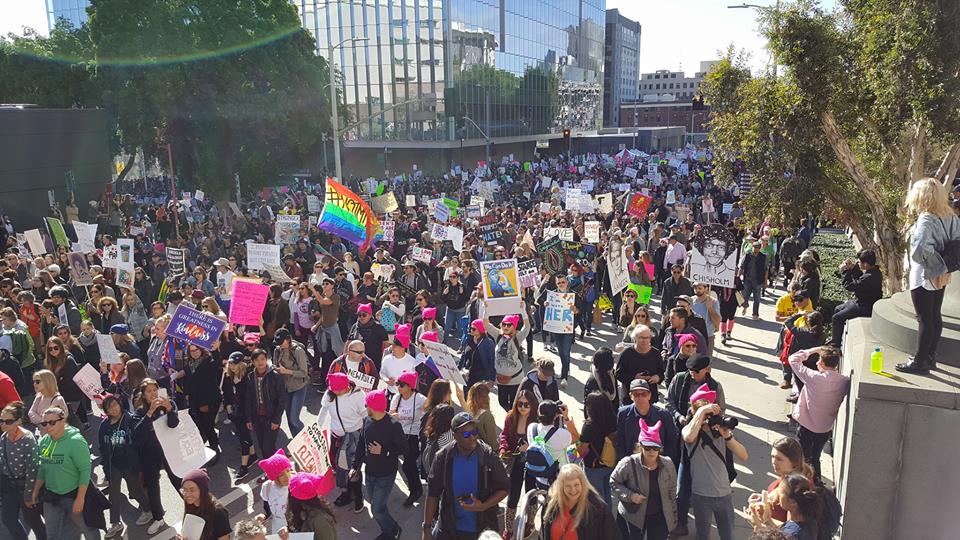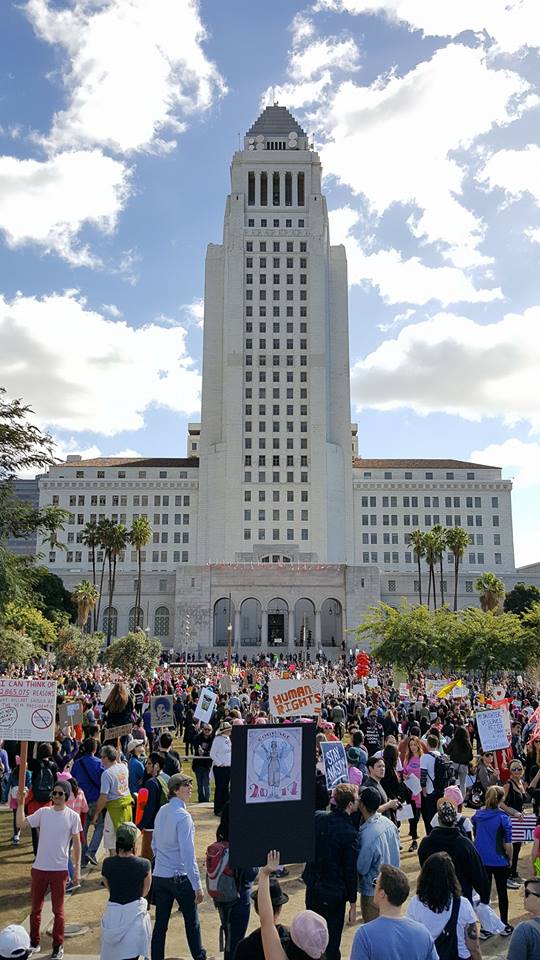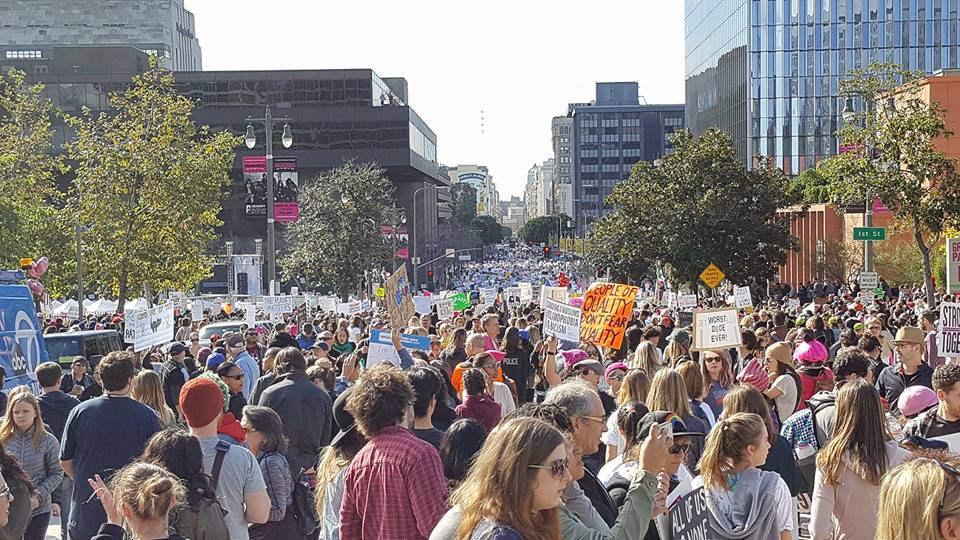 –  Los Angeles Women's March, photographs by Christopher Haug
Oh yeah, and there were portapotties.  Duh!  Why is that worth mentioning?  Because near the beginning of the March I used one, and at the end of the March I realized … (dun dun dun) … that I had left my new phone in it.  Aarrgghhh!  Not that I could easily go back, walking against the crowd, but I knew there was not much reason to go because thousands of people would have already gone inside after me; someone would have taken it.  It really cast a pall on an otherwise great day, because there were pictures on the phone that I had not saved elsewhere.
Later we had dinner; we took the train back.  At home I checked my landline messages as I always do.  One was from my college roommate, which was not unusual.  But her message was:  "Lynda, call me!  I heard from someone who says she has your phone!"  Turns out that my phone was locked, but if the woman who found it paid close attention, and if the phone received a text, she had a brief window to text back to that person.  My friend had texted, the woman caught it and replied.  I called her that night  and drove back to Los Angeles to get the phone the next day.  What a lovely person she is!  She said she had to do everything possible to get my phone back to me.
And so the microcosm, defined by Merriam-Webster as "1 : the little world. 2 : a community or other unity that is an epitome of a larger unity."  A stranger went out of her way to help another; commUNITY.
Lastly, another microcosm:  Two of the people who stayed with, marched with, and helped me are the wife and daughter of an ex of mine.  Proving one of the most popular signs in the March – Love trumps Hate.
See you April 15, if not sooner.   😉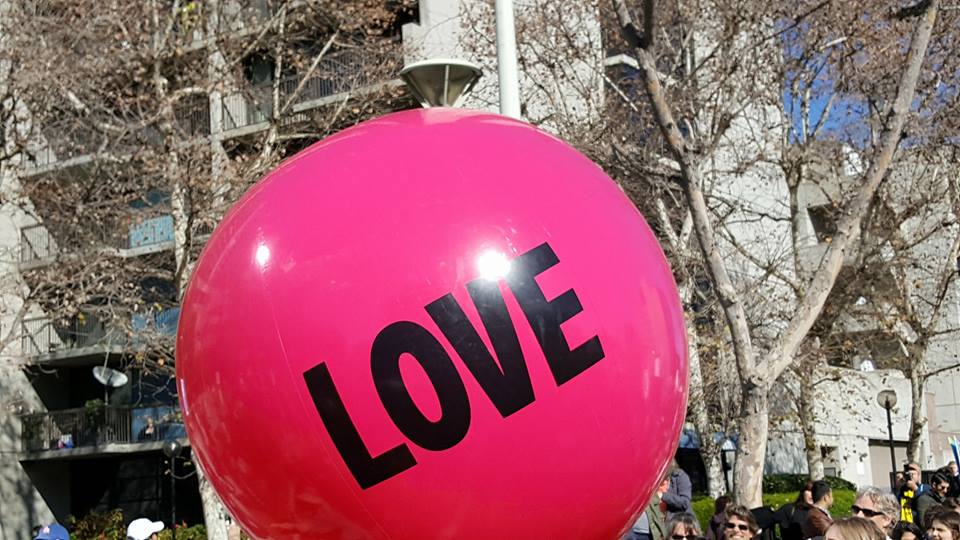 – Photograph by Christopher Haug