To Pube or Not to Pube: A Sex and Hygiene Question
A female student walked into my Human Sexuality class with the following pronouncement:  "I just saw some '70's porn this weekend – OMG, the bushes on those women!"
The truth is, a love of bushes didn't start in the '70's.  Have you ever heard of a merkin?  I didn't think so.  The only reason I've heard of it is that I spent too many hours reading English literature instead of cultivating my bush and auditioning for porn.
A merkin is a pubic wig.  More commonly, a pussy wig.  According to Wikipedia (quoting the Oxford Companion to the Body), it dates back to 1450's England when it was used primarily for one of three reasons:
after having shaved to rid oneself of pubic lice/crabs (UGH!)
or to conceal the hair loss and unsightly sores caused by syphilis (AAACCK!!)
or if one were simply unlucky enough to have a case of pubic alopecia (…AWWW…)
None of those would have been a very appealing situation at the time, though I suppose a bald snatch was the lesser of three evils.  Apparently crabs and syphilis were rampant in the late Middle Ages.
But getting back to today.  What's obvious in popular US culture is the very unpopularity of pubic hair.  And lest I somehow missed that, my students' essays will not let me forget it:
"Pubic hair – blech! Dirty and disgusting!"
"I was going to go down on her until I saw – OMG!"
"I have to manscape or I don't feel clean!"
Whereupon I feel a responsibility to remind them that few features of the way we have evolved as a species did so for no good reason.  Hair typically has a protective function.  For one thing, both men and women have a pubic bone just above the sex organs.  When people are grinding bone on bone, it can be quite uncomfortable.  But nature has tried to help us out a little.  Women have a soft cushion called the mons pubis (pubic mound) that makes for a gentler landing.  And both sexes grow pubic hair that is meant to serve as a soft little bed of hay.  Think of it as your own private Bethlehem.
Then, composed of mucous membranes as they are, genitalia are also especially vulnerable to disease, much more so than areas that are covered by healthy skin.  Once again, nature has provided:  Hair actually serves as a barrier that can help keep some diseases at bay.
Now what about those pubic lice, you ask?  When my students learn that the lice feast on bacteria in pubic hair and hence are usually found there, they say, "But I shave, so that means I won't get them, right?"  And for a moment I just gaze fondly upon their innocent little faces.  Then I have to tell them the ugly truth:  "Yes, BUT…"
The "yes" is because it's true that they have removed the primary food source for the lice, so the likelihood of getting those has gone down.  The "BUT" is more diabolical.  Because when they shave or wax, they create tiny little wounds at each of the hair follicles.  And what can get into those wounds?  Just about every other STD, most of them worse than a case of lice that can be eliminated with a special shampoo.
To understand this, here is just a brief lesson in epidemiology.  For a disease to transmit (e.g., to you), several phenomena must be present:
You have to be exposed to the Reservoir (where the pathogen, meaning the disease-causing microorganism, lives). In the case of an STD, that means a member of the human population who carries it.
There has to be a Mode of Transmission, meaning the way the pathogen gets passed to you. A cold virus can be inhaled, dysentery is passed through contaminated water, and STDs transmit via acts of sex.
You must have a Portal of Entry, meaning an opening that the pathogen enters. Those include getting into the bloodstream (e.g., through a wound, or directly into a vein via sharing needles), from a pregnant woman to her child (i.e., sharing blood), and those vulnerable mucous membranes (mouth, nose, eyes, urethra, vagina, anus).
Then, and only then, might you become a new Host.
OK, so imagine that you have sex with someone (mmm…) who has an STD that you, and maybe even they, don't know about (errrr…)
Reservoir – √
Mode of Transmission – √
Even if you do use a condom (and I hope you do), if you have waxed or shaved, you still have hundreds, maybe thousands, of tiny little WHAT?
Portals of Entry – √√√ !!!
That doesn't mean you definitely will become a Host.  But it certainly means you might.  And believe me, HPV that can cause cancer is a whole lot worse than a case of crabs.  So are chlamydia and gonorrhea that can make you sterile; herpes that you would have for the rest of your life; and syphilis and HIV that can literally take your life.
By the way, those of us who sported our naturals in the '70's didn't get everything right.  We were so thrilled with the pill that we kind of forgot about using condoms.  I'm embarrassed to say, our lapse has been a contributing factor in some of the STD epidemics of today.  And in fairness to the hair-phobic younger generation, oral sex has become much more popular than it was when we were letting our freak flags fly.
So just two last points:
The good news is, you can still trim. "Manscape" or "vagscape" come from "landscape," not "moonscape." We like a little neat foliage decorating our yards, right?
For oral sex, there is also this phenomenon called bathing. It has a lot more to do with cleanliness than a little bit of hair does.
Next up:  Are you bathing your sexy parts the way your mother taught you?  Or the proper way?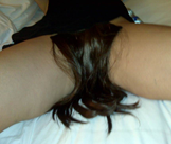 "Give me a head with hair, long beautiful hair,
Shining, gleaming, streaming, flaxen, waxen
Give me down to there (hair) shoulder length or longer…"