Food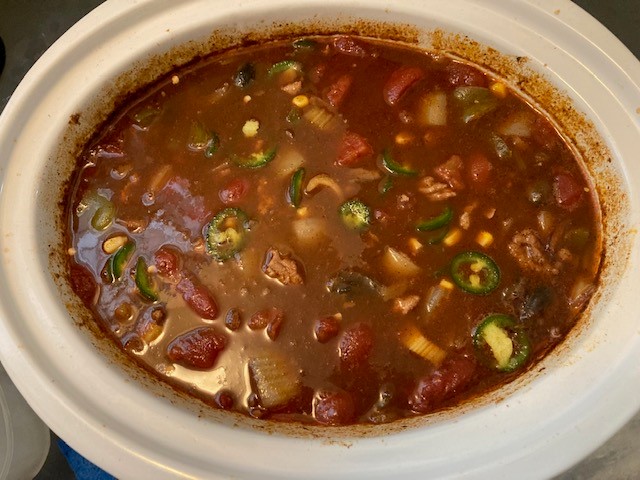 What's Hot on a Chilly Winter's Eve?
No, not sex! I've spoiled you, my faithful readers. 😊
Of course, yes, sex can be very hot, too. But that's not what I'm going for here.
So much of the country is under snow, rain, fog and cold right now! I decided it's a great time to post the recipe I'm most often asked for:
LYNDA'S CROCKPOT TURKEY CHILI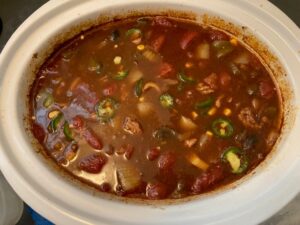 Ingredients
1 ½ – 2 lbs. ground turkey (depending on how meaty you like it)
2 regular or 1 large can chili beans (use all the juice in the cans)
1 regular can red kidney beans
1 regular can black beans
1 regular can corn
1 large can whole cooked tomatoes crushed loosely by hand
1 small can mushroom stems and pieces
1 medium green pepper cut into chunks
1-2 jalapeño chilis cut into thin slices
1 medium onion cut into chunks
3-4 stalks of celery cut into chunks
4 Tbsp. olive oil
1 can beer (optional – can replace with one cup +/- of water)
3-4 Tbsp. chili powder (spices can be adjusted to taste)
3-4 tsp. cumin
1 tsp. garlic powder
1 tsp. black pepper
½ – 1 tsp. crushed red peppers
¼ – ½ tsp. cayenne pepper
Instructions
Brown the turkey. Put all ingredients except the jalapeños into a large pot. Bring to a boil and then reduce heat and simmer for about 2 hours.  Add the jalapenos and simmer one more hour. Or you can use a crockpot for 7-8 hours on low (overnight like I usually do – and wake up to the wonderful smell of chili! Add jalapeños for last hour.)
Tips
I like chili to be a little soupy rather than sludge-y. This recipe starts off pretty soupy, but it will thicken the longer it's cooked. Just add some water if you want to thin it out, or to heat up leftovers later.
To increase or decrease the heat, alter the amounts of one or more of the cayenne, crushed red peppers, or jalapeños.
My can sizes are:
Large = 28 oz
Medium = 15-16 oz
Small = 4-7 oz.
Toppings: I use shredded cheese, sliced green onions and chopped cilantro.
I serve with tortilla chips, corn bread or saltine crackers.
You can make this vegetarian, too. Just double the olive oil and reduce the chili powder by 1 Tbsp. and cumin by 1 tsp.
Happy chili-making! 😊